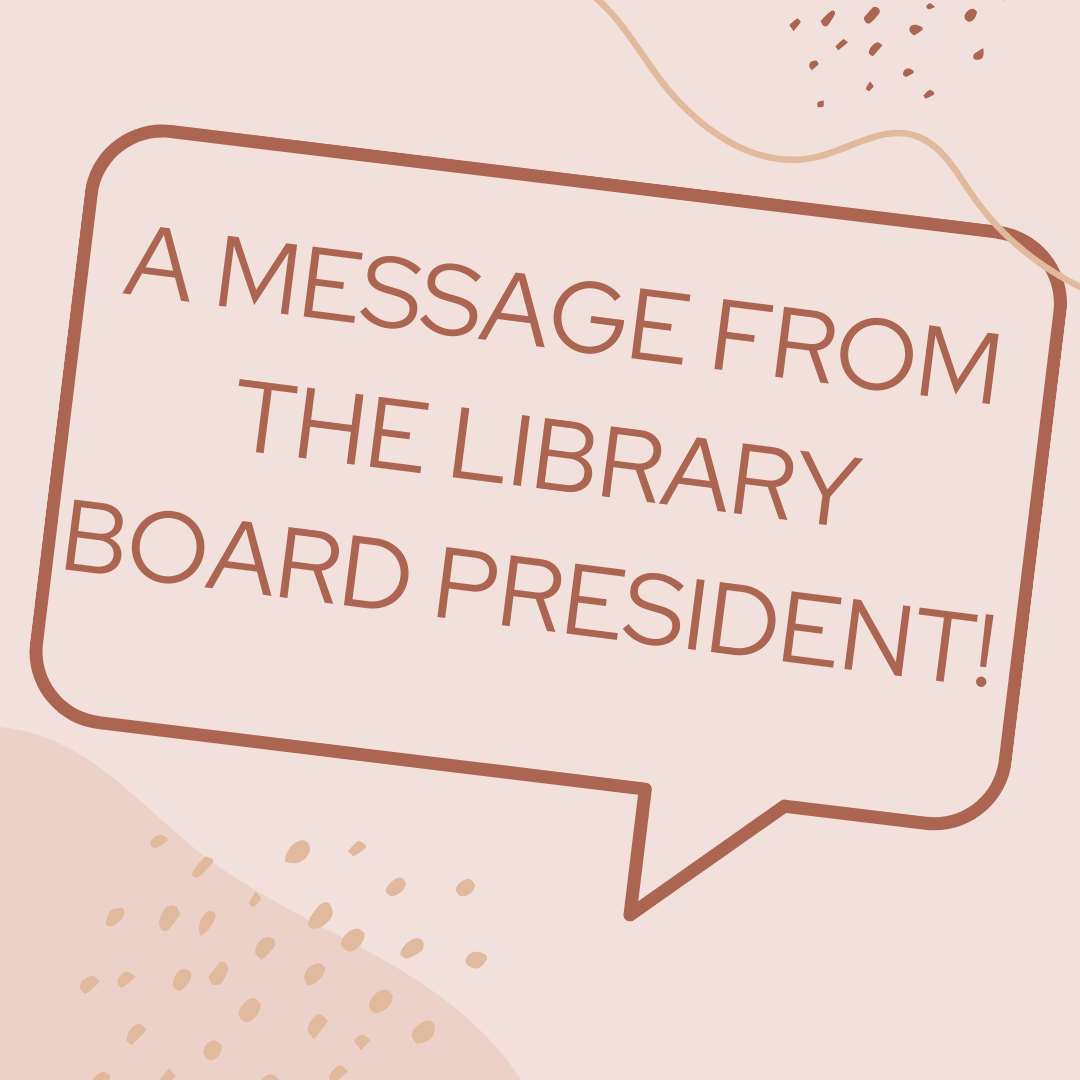 A Message from the Library Board President
August 2023
Are you wondering what's up with the new library?  Library Building Committee members are still hard at work establishing procedures, exploring funding, and developing capital campaign strategies and materials.
At our June 20th Community Informational meeting, some community members expressed the desire to keep the library on Main Street, and concerns were voiced about traffic congestion and pedestrian safety at the proposed site on the corner of Highway 27 and Mills Street. Although we had met previously with school officials and the WI DOT, who both were okay with the proposed site, we decided to evaluate some new alternatives which have become available and re-evaluate some ones considered in prior studies as possible locations.
Our intent is to share findings with the community once sufficient information has been gathered. Please keep in mind our goal is to provide the best possible long-term solution for the library facility and the Village of Cadott. 
If you'd like to learn how you can participate in this exciting opportunity of bringing a new library to our community, please let Samma Johnson know.
In the meantime, keep watching for library updates and events on Facebook and on the library website. Samma and staff are ready to help patrons find information or select a great book or DVD. Remember, there are story times, book club, adult coloring and more offered at our library. Stop by and check out the new games, puzzles and sports equipment that were added recently. 
-Cookie Kaste
(Samma's Note: I'm available at the library Monday through Friday, our regular open hours by phone, 715-289-4950, or via e-mail johnson@cadottlibrary.org)
New Building FAQ
Our Building FAQ is available on PDF. Note that the Index is clickable to take you directly to the question you want the answers to first! This FAQ will be updated as the project continues.
If you have additional questions, they may be directed to the Library Director via phone (715-289-4950) or by e-mail johnson@cadottlibrary.org
(Updated: May 23, 2023)
Support the Project
Donations can be mailed to:
Cadott Library Building Fund
P.O. Box 68
Cadott, WI 54727
Checks made payable to: Village of Cadott, with Memo: Library Building Fund
On April 19th, a meeting of the the Village and Library Boards, members of the Building Committee presented the concept designs for our new library building. For full details on that meeting, report...
read more
At last night's Library Board meeting, Cory Scheidler was present to show us some updated renderings based on our recommendations (re: library staff, committee members, and library board) from the...
read more