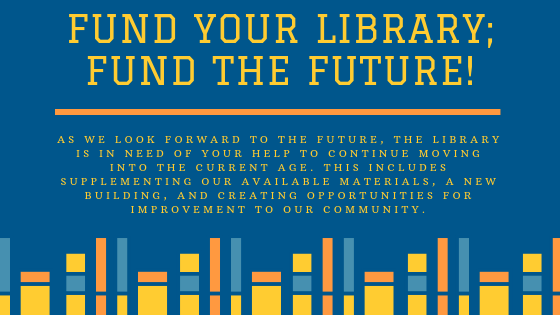 New Building Fund
The Cadott Library Trustees are making headway on a new library building to be placed on the corner of HWY 27 and Mills St., near the schools. Full details on this project can be found on the Building Page.
Our recognized donation levels are as follows:
Visionary: $300,000+

Founder: $100,000 – $299,000

Benefactor: $50,000 – $99,000

Sponsor: $10,000 – $49,000

Patron: $2,000 – $9,999

Supporter: $1,000 – $1,999

Friend: >$999
Monetary donations can be mailed tothe library. Checks payable to the Cadott Library Building Fund, P.O. Box 68, Cadott, WI 54727
For other donation options, such as stocks or bonds, please contact the Library Director or Library Board President.
Monetary Donations
The Library appreciates montetary donations of any size! Whether it's spare change in our donation box or a sizable check. We will put it to use!
Donations can be specifically given to be used for…
1. Where they are most needed, determined by library staff.
2. Materials Donation (Books, CDs, DVDs, etc)
3  Furnishings and Equipment (furniture, toys, etc.)
4. Technology (Computers, scanners, printers, maintenance, etc.)
Honorariums
Honorarium gifts are suitable for funerals, graduations, weddings, birthdays, and any other gift-giving event.
Donations in memory of a family member, friend, or other loved one, are an amazing rememberance gift that will aid the community for many years to come. These gifts can be in the form of monetary donations to the library used for specific materials, or put toward purchase of larger items such as furniture, special collections, etc.
We offer Honorarium cards, free of charge, with your donation at the library.
For more information, contact the Cadott Community Library at cadottpl@cadottlibrary.org or (715) 289-4950. 
The George and Alice Miller Endowment
In 2019, work began to disolve the longtime George and Alice Miller Trust. The Trust has been supporting the library since 1963! However, management of the trust became unstable, so measures were taken to ensure the proper care for the benefit of the library.
In 2020, the Trust was officially turned over to the Chippewa Foundaton to become the George and Alice Miller Endowment. The foundation is a public charity that serves the Chippewa Valley.
Gifts can be made to the endowment at any time or written into advanced directives. For more information about how to make a gift, visit the Foundation's Website: http://www.yourlegacyforever.org
Friends of the Library
Join the Friends of the Library!
The need for a strong library is greater than ever. In the past 10 years alone public library usage has increased by 25% nationwide! With the increase in usage and attendence, demad for services and resources offered by the library increases too. 
The Friends make it possible to increase our capacity to serve but we couldn't do it without your continued support. 
Joining the Friends is easy! Vist their page for more information, or stop into the library to pick up one of their brochures. The Friends members will be absolutely vital in our future plans for getting our new building!
Donations made to the Friends of the Library are Tax Deductable as they are an official 501(c)3 NonProfit Organization.
Library vs. Friends Vs. Endowment?
It can be very confusing to know where and how your donations are best utilized. When in doubt: ask! Otherwise, here are some general guidelines for where your donations should be addressed:
Direct to the Library:
Building Fund Donations
Honorariums, Memorials, & Specified Purchasing
Short-term help (Items that will be used between 1 and 20+ years).
The Friends:
General Purchasing Use
Programing & Event Funding
Non-Specific Material Purchases
Summer Reading Program Aid
Tax Deductable
Friends generally pay for single-time events and items, with exceptions of Director suggested materials purchasing.
The Endowment
Long-Term Gift. For as long as the Endowment exists, your gift will continue to be invested and earning.
Tax Deductable
Purely monetary
Funds recieved from the Endowment will generally go toward events, equipment, and materials.
Even More Ways to Donate!
1. Programing Amazon Wishlist
2.Donate your gently used books, board games, puzzles, etc.

Materials that fill a need in our collection will be added

Materials that do not will go on our Friends Book Sale.
Please refer to our Donation Policy and talk to the Library Director before making material donations.

3. Donate your Time & Skill, leading a library program
4. Volunteer with the Friends of the Library